Save A Child is a charity project started by us from donations and pledges of generous players taken from the fantasy wealth we gained by playing on BlogShares Fantasy Stock Market.
| | |
| --- | --- |
| | Tuesday, October 03, 2006 |
I received the following from Save the Children today: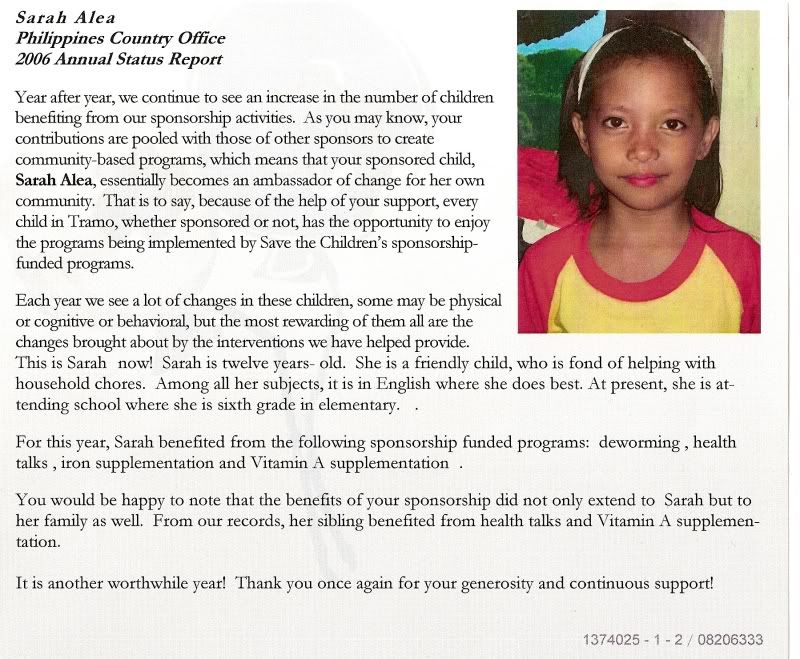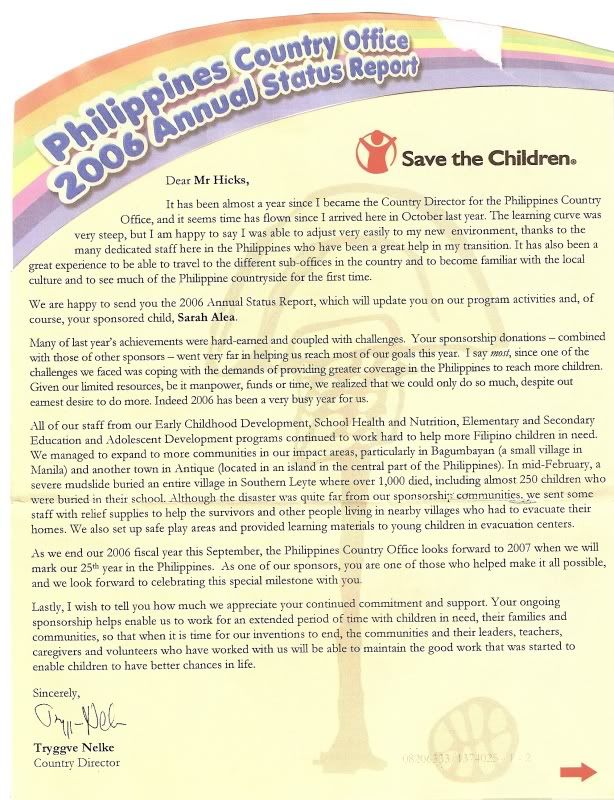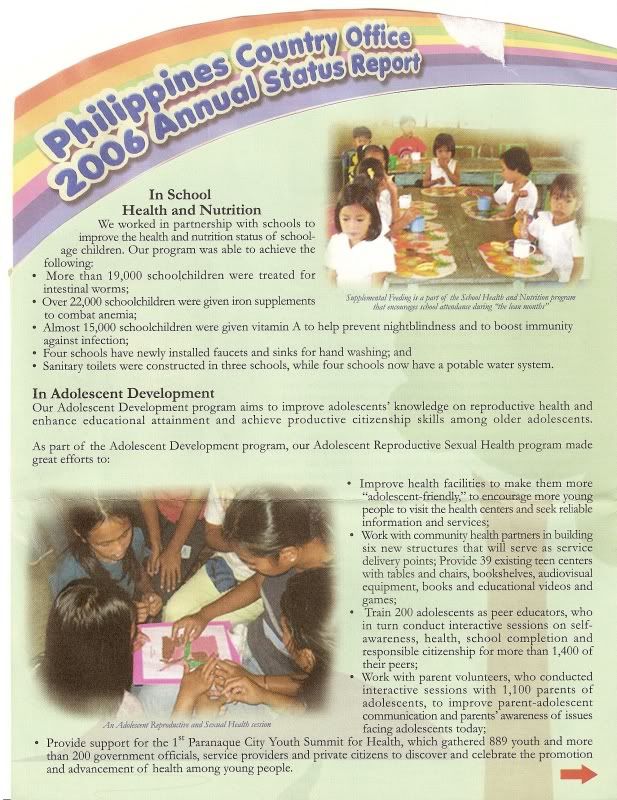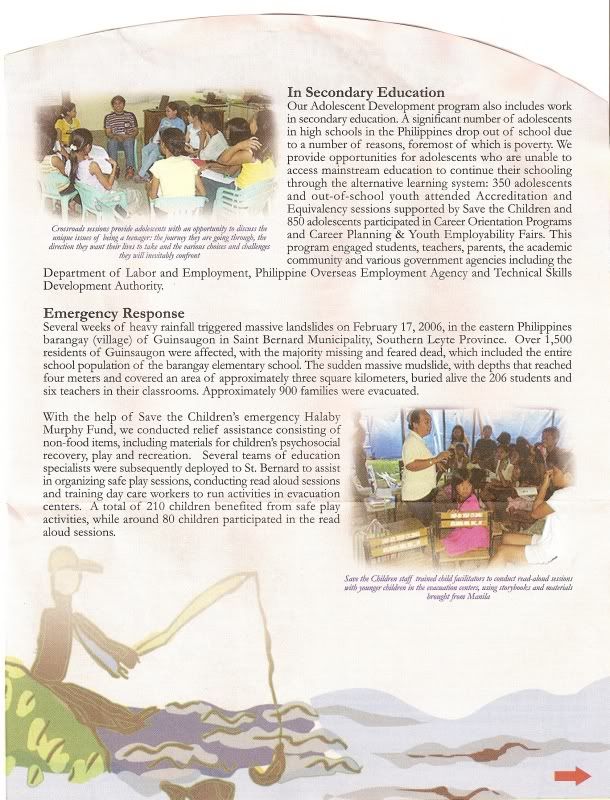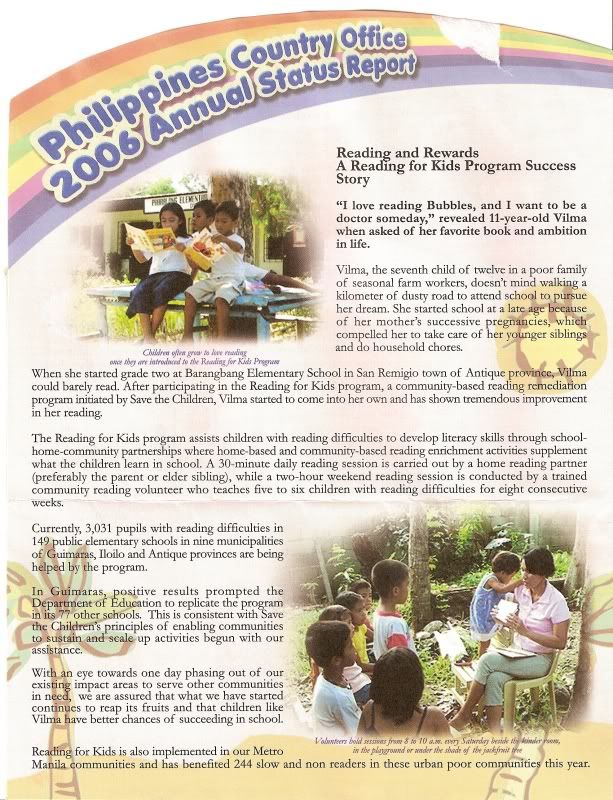 Posted at 06:25 am by
RWO
Permalink
Since I have now returned home to San Diego and have finally managed to get settled in and all it is time to post some of the things Laila and I have received from Save the Children. Just before I left for the Philippines I received the Save the Children newsletter, but I didn't have time to read it before I left. So I am posting it and what is cool is the one lady Wilma, a featured volunteer was listed in the bulletin. We met her while we were in Tramo. I have a ton of stuff I received from Save the children and I will post is over the next couple of days as I get it scanned in. Here is the first installment, which is the latest newsletter I received.
Here is a link tyo the newsletter: Save the Children Newsletter.

Posted at 09:54 am by
RWO
Permalink
Today, we took our BS sponsored child, Sarah, to SM Sucat for some grocery items and a pair of sandals as the pair she was wearing were rented from a friend for two pesos, about 4 cents American dollars.

We started out at 10 AM when Rose Marie and Fred, the driver, dropped by at Laila's house to pick us up. Again the traffic was terrible as MMDA was doing some road works along Epifanio delos Santos Avenue (EDSA). I am starting to learn the names of some of the cities around here. Anyway near the airport is Tramo, Parañaque City where Sarah and her family live in a depressed area.

We met Sarah, Shiela, and their mother up at McDonalds and then took a short drive over to the SM Sucat Mall. On the way, we were talking about possible places to eat when Laila mentioned Chow King and we found that the kids had not been there yet, so Chow King it was.

We parked the van in a basement and met Riel at Chow King. After Laila had them remodel the place to accomodate our group (she is very good at that), we sat down to a meal of Sweet and Sour Pork, Chicken, Pancit Bihon, Rice and other stuff. The meal was great and the kids really stuffed themselves as did everyone else.



After the meal we all went upstairs to the food section to buy food for Sarah and her family. Laila, who is always really observant of things caught Sarah's mother trying to add things to the list like milk formula for her son's baby and things like that. We were there to spend our money on Sarah and her needs other than the extended family.



We went ahead and filled up a shopping cart with grocery items and then took them to Tramo where we put them on a tricycle for home. It was great to see the smiles on Sarah and her sister's face as they left, even though we have the feeling that their mother would probably sell some of the food for cash. Sort of how the welfare folks in the states do.



Anyway, we then headed back to Laila's house which again took quite a while as the traffic again was miserable. She didn't know about the traffic because she had slept through the trip back. I look forward visiting Sarah and the Save the Children again on my next visit. It was a very good feeling to be helping someone less fortunate than ourselves and Laila and myself enjoyed it alot.

Posted at 11:59 pm by
RWO
Permalink
Sarah, our sponsored child
Today after many months of waiting, Laila and I finally met Sarah, our blogshares sponsored child, through Save the Children.

We have been keeping in touch with Riel
Andaluz since I returned from my Christmas visit to Manila where we had applied too late to visit with Sarah. Riel sent me all their forms and I applied for a visit which was accepted. We received our itenerary yesterday, and after getting up early this morning, eating breakfast and then starting to get ready, Pearl told us that someone from Save the Children was at the door. They were an hour early, and we were not quite ready. Also Denise was asleep on the couch and we didn't really want to have them come in and see that so, somehow Laila excused us and asked if they could come back at 9 AM, as scheduled.

We went ahead and got ready and went downstairs at about 8:30 in case they were waiting for us. They were not and then at 9 Laila decided she wanted to wait upstairs. I told her to be patient and wait but then we went ahead and started going upstairs. Just as we got to the fourth floor they drove up and we went down again and got into the van. We then headed off to their headquarters for a brief presentation and to meet some of the folks that work there.

Traffic was really terrible and it took us quite a while to get there, but when we did finally pull up we had a very warm reception. We toured their office and met some of the staff. We then went to the conference room for a power point slide presentation that had Laila quite amazed.

Laila was always skeptical about Save the Children. But then she suspects anything being run in the Philippines if the government is involved. The slide show showed all the different things they do and where our sponsorship money goes.

Not all of it goes to Sarah and I think that shocked Laila a bit. I think Laila was under the impression that they just gave Sarah a monthly allowance and she spent the money on her own, which is not the case.

They use the money to buy some school supplies in the beginning of school year, but then they also run programs for the younger kids to prepare them for school, assist with school, and teach them how to eat right, and sanitation. Sarah, in fact, serves an ambassador to all children who are in the same school where she studies. They received the same program benefits what Sarah receives. They help children from 4 years old up to 18 years old only. They also address birth control, and bad habits to older ones.

Anyway after seeing the presentation it was off to McDonalds to meet up with Sarah and her family. We again got caught in traffic and it took us quite a while to get there but we finally did.


Sarah. Her Mother, and Sister Sheila

Sarah is 12 years old and I was quite surprised by how small she was. We met Sarah, her youngest sister, Shiela, and her mother. Sarah is one of seven children in the household and her father abandoned the family six months after her youngest child was born.


ME, Laila, Sarah


Her mother works as a fish vendor but, it is a really low paying job which is equivalent of 4 -5 dollars a day. Anyway Laila learned a lot about the program from talking to some of the workers and the family. Sarah didn't speak English so we just kind of smiled and used sign language or let Laila translate for me.

We then went to a community center where they were teaching job skills with materials they have available. I felt really bad as this was an extremely poor area, but the folks at the center were working hard, and there were many volunteers there helping them out.

Tomorrow, we will be taking Sarah out on a shopping trip to a mall. We were thinking of school supplies but after Laila talked to Sarah, I guess we will be going grocery shopping instead, as Sarah prefers grocery items and rice for her family. As a rule, we are not allowed to give any cash donations to Sarah or her family.

Anyway, after that it was time for the long ride home. Laila's knee gave her so much pain. Somehow, it is really nice to finally put a real child in place of the picture and letters. We're excited to take her and family out for shopping tomorrow...
Posted at 08:27 pm by
RWO
Permalink
| | |
| --- | --- |
| | Saturday, September 10, 2005 |
A letter from Save the Children
I received the following from Save the Children.
Posted at 04:53 am by
RWO
Permalink
I received the following letter from Sarah, our blogshares sponsored child.
The English translation is:
Dear Mr. Hicks
Good day sir! I received your letter and am glad that you are my sponsor.
How is your teaching? What subjects are you teaching? I hope that you will enjoy your work.
Please send my regards to your wife and to your kids.
Are you fond of the internet? Me, I enjoy singing. I hope that you may be able to help many children in your teaching career.
Again, thank you, and I hope that you will write me again.
Take care always. God bless.
Ma. Sarah E. Alea.
Posted at 06:17 am by
RWO
Permalink
The form did not allow me to fill out a whole lot, but this is what I wrote:

Dear Sarah,
I am your primary sponsor Randy Hicks. I live in San Diego, Ca., with my wife Rose and our two youngest children, David and Judy. I am a retired Naval Officer who now attends school as well as teach school. You are actually being sponsored by people that play an internet game called Blogshares. They donate thier game winnings to help sponsor you.

From,
Randy Hicks

it then had a small section for family and friends:

I listed
Wife: Rose
Son: David (22)
Daughter: Judy (20)

Friends: Players from the game www.blogshares.com are contributing to your sponsorship.

I did not have enough room to list individuals, sorry.

It also asked about my hobbies which I listed as Internet games (Blogshares and Neopets) and school.

I will mail it tomorrow.
Posted at 12:05 pm by
RWO
Permalink
A letter from Save the Children
I received the following today:
Dear Mr. Hicks,

Thank you! By sponsoring Sarah Alea for several months now, your generousity combined with the support of others is helping to bring real changes to the lives of children in Satrah's community.

But your sponsorship has done even more! By letting Sarah know someone cares, you've sent so much more than your financial support - you've sent hope and encouragement. To a child in poverty, that gift can mean more than you can imagine.

Building a relationship with your sponsored child is one of sponsorship's richest rewards. Will you tell Sarah a little more, so that she can know you better?

By filling out the enclosed brochure, you will be telling your sponsored child just a little bit about who you are, what you like to do, your family - just some basic information. Of course the information is voluntary - but you'd be amazed at how overjoyed Sarah will be to receive a special message from you! Time and Time again, I've seen children in the remote villages proudly display such notes and cards from thier sponsors - they are truely prized possessions!

So please take a just a few moments to complete the enclosed brochure, and return it to your sponsored child's field office in the envelope provided. Be sure to check with your local post office to calculate postage needed.

You're beginning an exciting journey! We want to make sure your sponsorship is a rewarding, meaningful experience, so please call Sponsor Services at 1-800-SAVETHECHILDREN (1-800-728-3843) or 203-221-4030 if you have any questions or concerns.

Sarah already knows you're a person who cares. Now, you can help Sarah really begin to know you!

With thanks for all you have done for children,
Charles F. MacCormack
President

Posted at 11:46 am by
RWO
Permalink
| | |
| --- | --- |
| | Wednesday, January 12, 2005 |
Hi folks,
I am really sorry for not keeping this up to date, but if you are a reader of my regular blog, you would know that I have had some family problems and a severe medical condition. Anyway, let me give you a status of where we stand with Save the Children and our adopted girl Sarah.
I got a Christmas card from them and I have a picture of Sarah that I still have to scan and post. My scanner is broken and I am not motoring around very well right now, as I have a pinched nerve in my back.
I will get this posted when I can. They gave me an e-mail address where I can send things to Sarah, but it doesn't seem to be working. I will keep trying it from time to time. I have a little form that they mailed me to fill out with info about myself and where I live and all. I tried to supply all the info via e-mail but no go, so I will fill it out and mail it snail mail. So far we have paid 4 months on Sarah's account and I still have about three months of money left from our last auction. I figure when I get down to having only one month of money left I will hold another auction.
So in summary, I apologise for dropping the ball and not keeping this up. I have Sarah's accound being paid from one of my credit cards on a monthly basis so at least I can't drop the ball on that. Anyway in the future I will try and keep this up to date and I will post her picture as soon as I can get it scanned.
Posted at 02:29 am by
RWO
Permalink
| | |
| --- | --- |
| | Friday, November 12, 2004 |
I figured since Laila started up this blog I had better get of my dead rear end and post what i have received so far.
Meet Your Sponsored Child MEET YOUR SPONSORED CHILD

Field Office: Philippines Field Office Donor ID: 1374025-1
Child ID: 08206333 Sponsorship #: 480115653
Name: Sarah Alea
Gender: Female Impact Area: Metro Manila
Date of Birth: January 16, 1994 Community Name: Tramo

We would like to introduce you to Sarah Alea, who has been selected as your sponsored child. Sarah lives with her mother, 4 brothers and 2 sisters in a wooden frame home. The family's home is in Tramo within the impact area of Metro Manila where Save the Children works.

We hope that you will enjoy your friendship with Sarah, who is described by her family as being shy. The activity in which Sarah participates most is helping with household chores. She presently attends elementary school.

Tramo is located close to Manila Bay. Its total land area is 3,600 square miles and is divided into two major areas: Tramo I and Tramo II. Since the 90's, these economically depressed areas were used as dump sites. The congested drainage system and narrow streets make it prone to floods. The government and Save the Children have made sanitation projects here a top priority. In 2001, health programs began in Tramo's three elementary schools, a strategic site as half the population of 13,130 are girls 18 years and younger. 20% of the population did not complete primary education. Though many completed secondary education, few went to college and often failed to graduate due to financial difficulty.

Metro Manila is one of the major metropolitan areas of Southeast Asia. It is composed of eight cities and 12 municipalities. Metro Manila is also home to about 12 million people and is a veritable melting pot of Filipinos from different parts of the country. It has a land area of 646.10 square kilometers. Although it is considered one of Asia's energetic and modern metropolitan areas, it is also dotted with urban poor communities. These communities often lack access to basic social services and the skills necessary for gainful employment. Often, the jobs that are available tend to be occasional and often low paying.

The projects that are available in Sarah's community include educational assistance, Health and Nutrition Fair, and hearing and vision screening.

Educational assistance is extended to all children currently enrolled in daycare centers, preschool facilities, public and private elementary, secondary and tertiary schools in Save the Children areas. School bags, umbrellas and school supplies are provided, as well as payment of miscellaneous fees.

An all day Health and Nutrition Fair is offered with free medical and dental consultations for all the enrolled children and some of thiner immediate family members. Treatment is provided for simple cases, while the more complicated ones are referred for follow-up at advanced centers. Health and nutrition education sessions are also held. The Fair is conducted through the support of local health offices and Save the Children provides medical and dental supplies.

Hearing and vision screenings are conducted for all school children from Kinder to Grade 6(6-13 years old) in all School Health and Nutrition partner schools. Children are screened by trained teachers to detect vision problems using Snellen's chart and hearing problems using the tuning fork. Those with visual and hearing problems will be seated in front of the class as an immediate remedial classroom measure. More serious cases are referred to specialists.

Project needs are identified by members of the community. Save the Children provides funding and technical assistance needed to establish and sustain projects until they can be managed by local agencies or members of the community. This is how Save the Children offers a hand up instead of a hand out to the families with whom we work.

Sarah is proud to represent her community in these efforts to ensure a better way of life for herself, her family and her community. On behalf of Sarah and her family, we thank you for your generous support and commitment to making a difference in thier lives.
Posted at 11:42 am by
RWO
Permalink